About
St. John
St. John & US Virgin Islands Travel Info
At Destination St. John, we are here to make your St John vacation enjoyable. If you have any questions or need assistance after your arrival, we are here to help!
---
St. John Vacation Tips for Our Villa Guests
In the Virgin Islands, we use US currency and postage. Most St. John shops and restaurants accept MasterCard, Visa and American Express. You may want to bring travelers cheques in small denominations since our local banks will not cash stateside checks. Our banks on St. John are First Bank and Scotia Bank and they both have ATMS.
No inoculations are required for travel to St. John. Passports are not required (but they are convenient) unless you plan to take a day trip to the British or non-US islands. We strongly recommend bringing passports if you possess them. If not, a voter's registration or birth certificate plus photo ID are acceptable for re-entry into the US.
Airlines to St. Thomas/St. John
St. John doesn't have an airport, but the St. Thomas airport is just minutes away. The major airlines to St. Thomas are Continental, Delta, American, US Air, Spirit and United. When you arrive at the St. Thomas airport, there are many taxi vans outside the baggage claim area. Ask to be taken to the Red Hook ferry dock where the St. John ferry departs for Cruz Bay every hour on the hour. If you prefer a private cab or water taxi service, please contact us in advance, and we can refer you to these services. The Red Hook ferry runs from 6 am to Midnight, seven days a week and holidays. The one-way fare is $7, plus $2.50 for each large bag.
St John Ferry Arrival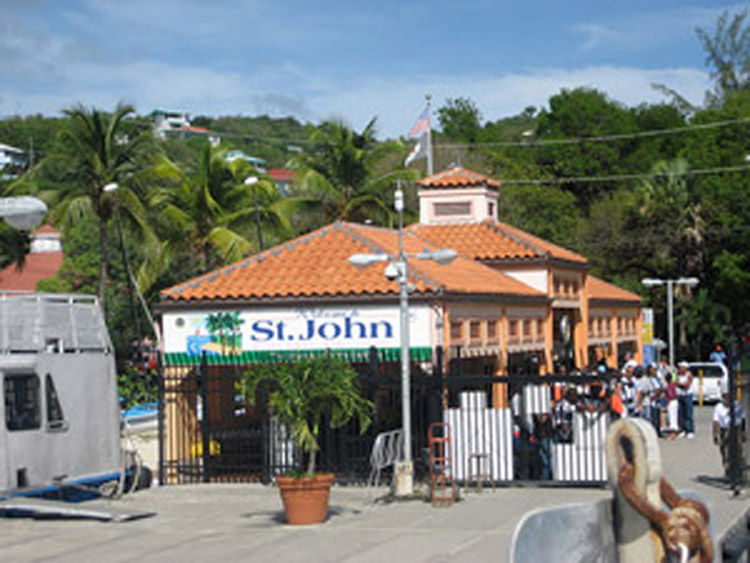 Upon your arrival a greeter will meet you at your car rental agency office or car barge area if you arrival via car barge and escort you to your villa. They will be holding a sign with your last name on it. If you have taken a ferry at an earlier or later time that we discussed, you MUST call the office at (340) 779-4647 so we can reschedule your greeter. We strongly recommend reserving a 4 wheel drive rental vehicle well in advance.
What to Bring to St John
Things to bring to St. John should be plenty of sunscreen, good insect repellent, and of course a camera. Most items are available here: however, they do cost a little more. This is also true with food, but rest assured you can purchase most everything here. St. John has a number of very good small grocery stores and you can get everything from seafood to steaks, baked goods, produce, etc. If you prefer to eat out, we have a variety of great restaurants to choose from. There are also several catering companies that provide "in-villa" chef services, as well as, "drop off" dinners if arranged in advance.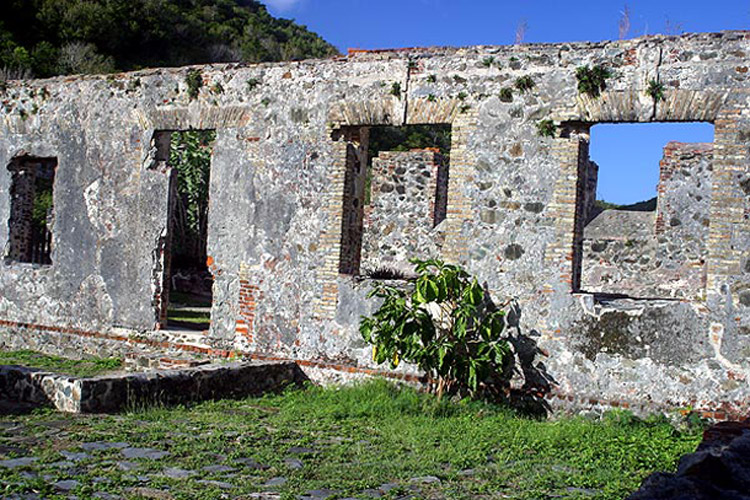 Your Cellular Phone on St John
If you are bringing your cellular phone to the Virgin Islands, your cellular company must have a contractual agreement with Sprint or AT&T Wireless, or be a carrier. Check with your company before you depart. Your villa telephone is for local calls only (St. John, St. Thomas or St. Croix). Be sure and bring a calling card with an 800 number, or you can purchase one here.
Internet Access on St. John Island
Some, but not all of the homes, have high speed internet access. Should you need to bring your computer to a home without wireless you can make arrangements with a local company, Surf Da Web, at (340) 693 9152. In addition, there are web cafes and hot spots throughout the island. Even our park in the center of town is a hot spot.
St John Car Rental and Driving on the Left
Driving: We drive on the left, a remnant of our Danish past. You'll be fine, as the maximum speed limit here is about 20 MPH. Just remember STAY LEFT.
What's Included in Your Vacation Villa
At your villa, we supply all your bed linens, towels and beach towels. All homes are equipped with full kitchens and we stock paper towels, toilet paper, dish and dishwasher detergent. We also provide a complimentary basket of treats to welcome you. All of our homes have TV, coolers, beach chairs, beach towels and hair dryers.
Check in time is after 3 pm and check out time is 10 am unless prior arrangements have been made in advance. Please respect our check out time. Keys can be left on the kitchen counter. Also remember that your luggage is subject to preflight inspection at the airport and that you cannot carry any fresh local foods in your luggage. You are also required to fill out a customs declaration form, so please save your receipts if your purchases exceed $1,200 per person. You are allowed 5 liters of liquor per adult plus an extra liter if it is from the USVI and 5 cartons of cigarettes.
St John Activities and Watersports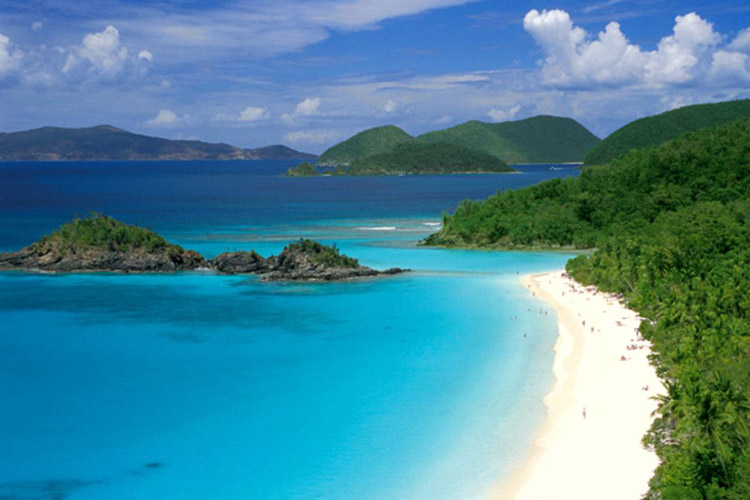 St. John prides itself on tranquility. If you are looking for a big nightlife scene, you have the wrong island. Steel pan, island rhythms, several rock n' roll bands, and even jazz music are the entertainment here. During the day you can be as lazy or active as you wish. Hiking, swimming, sailing and snorkeling are the pastimes. A day sail is a fabulous way to view our islands and salt-water fishing is abundant. There are a number of excellent charters available. Just call our office at 800-562-1901 for some outfitters to contact. Also, don't forget that ⅔ of the island is National Park. The National Park Service offers a number of guided excursions so stop by their headquarters in Cruz Bay.
St John Island Customs
St. John is an extremely casual island; however, local custom and law require that cover-ups or t-shirts and shorts be worn over bathing suits except on the beach. The same law says that men cannot appear bare chested in public. Most old time residents take offense at those who do not observe this once unwritten code, so PLEASE cover up.
Local custom also suggests that all conversations begin with a friendly greeting. It is considered rude to start a conversation without an exchange of "Good Morning," "Good Afternoon" or "Good Night." Adopt this local courtesy and you will usually be greeted by a smile and good service.
Island life moves at a slower pace than stateside, so relax and be patient. Don't add stress to your vacation.
More St John Island Info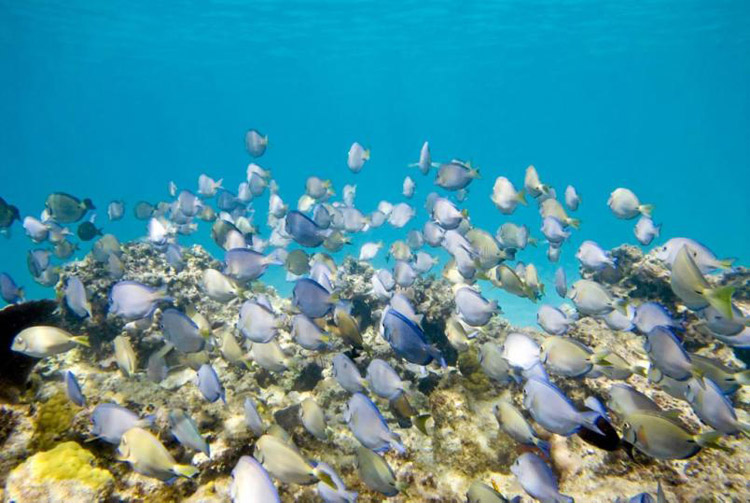 Water, water, everywhere! Fresh water in the islands is as precious as gold. We do not have city water. It comes from 2 sources: rain water collected in gutters and stored in the cistern, and desalinated salt water, which is trucked and delivered to homes and stored in the cistern. All homes have water filtration systems, and the water is safe to drink. Use it to wash and brush your teeth, cook with it, etc. However, when you are parched for a tall glass of water, you may want bottled, because while its safe, the water we have in our home systems is not always that tasty. Don't be surprised when we ask you to conserve, it's the island way… use all the water you need, but please try not to waste it.
Insects are everywhere in a tropical climate, and while all of our homes are exterminated on a regular basis, you may come face to face with an island critter. You can minimize this by keeping all foods in the refrigerator, and not leaving any food of any kind on the counters or table, this is simply an invitation to these little house invaders!
Electricity on St. John comes via cable from St. Thomas, and is not always as reliable as we'd like it to be. Frequent outages are common. Be prepared by knowing where your flashlights are located, and realize we all have to be patient when the power goes out.
Safety: St. John is among the safest islands in the Caribbean, and probably safer than your own home town. However, crime happens everywhere, so mind your belongings and take the same care with security around the house as you would at home.